Koosmik Brand Design
Comprehensive guidelines, brand identity and communication tools.
How I designed the visual language of Koosmik, a fintech startup providing payment services.
Logo Design
After a year or so using the initial logo I made at the very start of my work at Koosmik, I had the opportunity to rework the logo using feedback from users, consultants and my own experience. This result is for me a satisfying accomplishment as we reached something that had meaning for everyone and made sense from a design perspective.
Brand Guidelines
As more people were working on the company's projects, we needed a comprehensive guide for newcomers in order to maintain the brand identity and bring up to speed the freelancers. Since I worked on many medias (printed communication, web design, video), I consolidated all the good practices we discovered in this document.
On the developer side, they were also working on a detailed wiki for the mobile and web app, so both initiatives were part of a group effort to create an efficient design system for the company's products.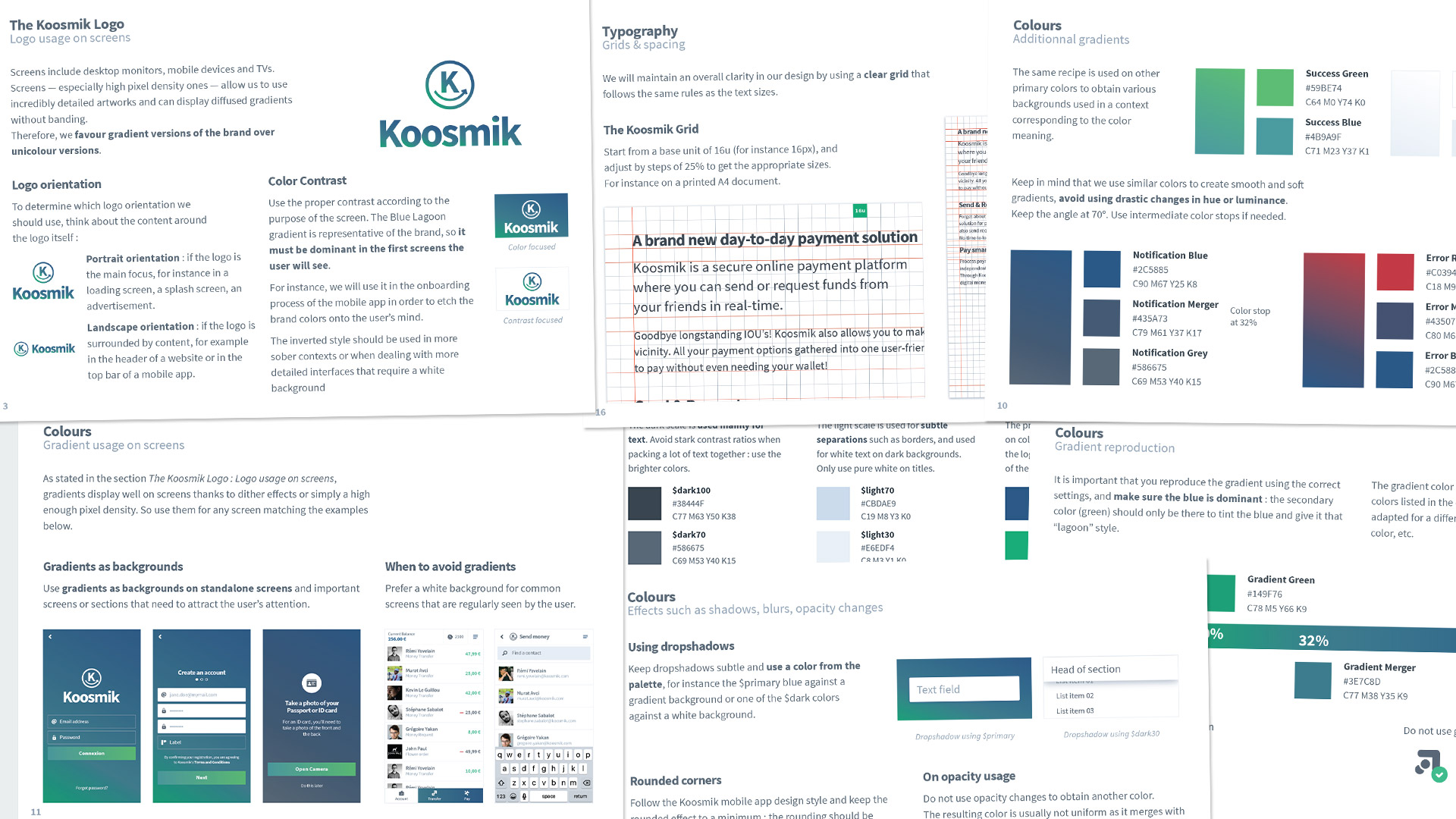 Communication tools
As a regular designer, then lead designer, I ended up working on a lot of projects outside my realm of expertise (web) : printed content, physical goodies, social content, emailings. I am always keen on learning new fields, and gladly undertook the tasks of creating & leading these projects, always keeping in mind one idea : create documented and reusable content.
These projects include :
Business card template on Illustrator, connected to a master InDesign project that generates print-ready PDFs when you feed it with a list of contacts
Versatile Campaign Monitor template for newsletters and emailings about Koosmik
Transactional emails for the Koosmik App. This in-depth article deals with the technical side of things and how it enabled translation and management to easily review the content.
Corporate goodies such as notebooks, stationnery, convention booth flags, posters